Digital Installations made simple
A Better Way To Engage Your Guests
Axis Digital works with Hotel property management and content suppliers to professionally install the best digital media services. From data networking, VOIP and flat panel TV installations to video-on-demand programming and small appliance installs – Our experts develop strategic roll-out agendas per property for site logistics, deployment, and service fulfillment. Axis Digital's on-site experience and attention to detail minimizes guest disruption and helps to ensure on-time, on-budget service delivery.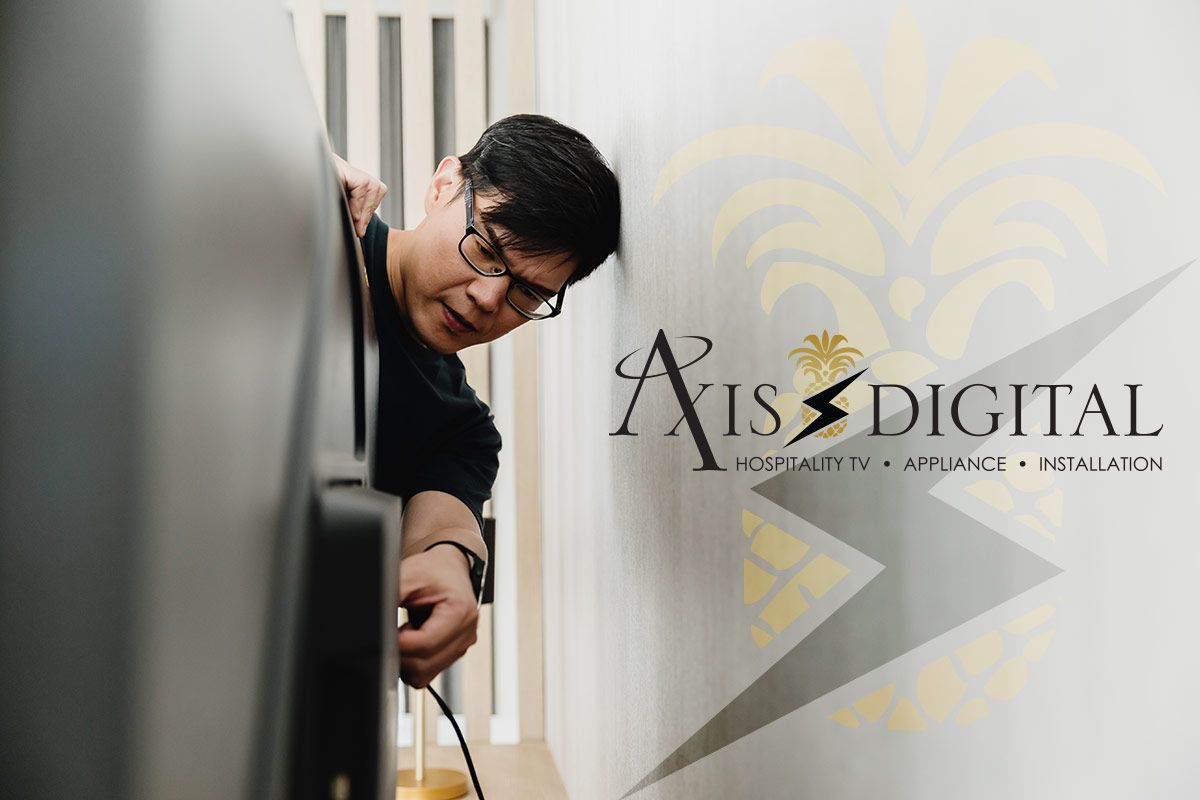 A Quality Digital Experience
Leading-Edge Digital Products
Upgrade Your Hospitality Space
If you're looking for the the most advanced and leading-edge digital products for your hotel, Axis Digital has you covered! From "Clean" Remotes and UV Charging Docks to sleek and modern digital clocks, we have what you need to upgrade your hospitality space.

Flat Panel Installation
Flat Panel Programming
Video on Demand
Specialty Services
#1 Selling TV Remote for Hospitality
Cleaner. Easier. Less Expensive.
Consumer TV vs. Hospitality TV
The Difference Could be Costly to a Property
Consumer HDTVs

Hospitality HDTVs

Warranty

Consumer Warranty: 90 Days
Typically voided in commercial settings

Hospitality Warranty: 2-yr On-Site Service
Dedicated Tech Support

Encryption for HD Content

Set Top Box required to receive HD programming
Monthly STB Lease Cost or Buy for $250/TV
Additional failure point in hotel, powered on 24/7

Integrated LYNK / Pro:Idiom DRM Technology
Enables Premium HD Channels to display on screen
No need for Set Top Box for HD Channels

System Integrators

Not Certified with Hotel SI Vendors for PPV/VOD
Set Top Boxes and other external devices needed to use content vendors (e.g. IR Dongles for remote control usage)

Certified with Hotel SI Vendors for PPV/VOD
Integrated menu settings specific to SI Parameters
Internal bLAN (for SONIFY) and IR Pass-Thru Feature

Security & Maintenance

No Lock-Down Mechanism
Open Access Menu Settings
Network Management Unavailable

Lock-Down Mounting Included
Feature Controls such as Volume Limiters, Channel Mapping
TV Setting Clone and Firmware Updates via USB or REACH Server

Smart TV Interaction

Smart Hub Accessible but not controlled centrally
No ability to interface to a PMS, guest credentials link

Smart Hub Accessible and controlled centrally
Will interface to a PMS, guest credentials are deleted